3Dprinted Zeeuwse Paeremes
Zeeland is beroemd om haar strijd tegen het water. Immers, de zee geeft en de zee neemt. Er zijn verschillende steden en dorpen in de historie van Zeeland verzwolgen. Deze strijd tegen het water wordt afgebeeld in graveringen op het handvat van het ge3Dprinte ''Paeremes''. Een traditioneel mes dat door boeren werd gedragen, nu verkrijgbaar in een moderne uitvoering.
Het Paeremes, zeeuws voor ''Paardenmes'', is een handgesneden mes vol met versieringen en illustraties. Het werd door boeren gebruikt voor op het land, maar was ook een status symbool. Een mooier heft was een teken van rijkdom. Ook werden soms christelijke taferelen afgebeeld, want het mes ging op zondags mee naar kerk. Het was het mes voor dagelijks gebruik van de 19e eeuw. Later werden deze messen overbodig en daarmee is de kunst van het houtsnijden bijna verloren gegaan. Nog maar een paar mensen in Zeeland zijn bekwaam in het maken van deze prachtige stukjes historie.
Hier komt het ontwerp van Emergo Designs om de hoek: Een moderne variant op dit historische Paeremes. Doel is niet om de traditionele houtsnijders te vervangen of imiteren, maar om het ''Paeremes'' aan te bieden aan een grotere groep geëndosseerden die voorheen niet in aanraking konden komen met dit stukje Zeeuwse historie.
Voor het ontwerp is gekozen voor een simpele en moderne uitstraling. De graveringen beelden een ringdijk van molens en de moderne stormvloedkeringen uit. Het thema is de Zeeuwse strijd tegen het water. Het heft is gemaakt met moderne 3Dprint technieken. Het materiaal is een bruin of wit kunststof met zijdeglans finish. Het mesblad is een vlijmscherp carbonstaal mes van de Duitse firma F.Herder uit Solingen. Het is niet roestvast en wordt daarom niet aangeraden als keukenmes.
Het Zeeuws Paeremes in een kleur naar keuze kost €65-
Elk Paeremes komt met een display standaard of leren schede(meerprijs is €45-).
De beschikbare kleuren zijn wit en bruin. De levertijd is binnen 10 werkdagen. Om te bestellen moet het onderstaande formulier ingevuld worden. U zult zo spoedig mogelijk terug gemaild worden met de factuur. Ondertussen wordt het mes al voor u gemaakt. Bij vragen kunt u contact opnemen via info@emergo-designs.nl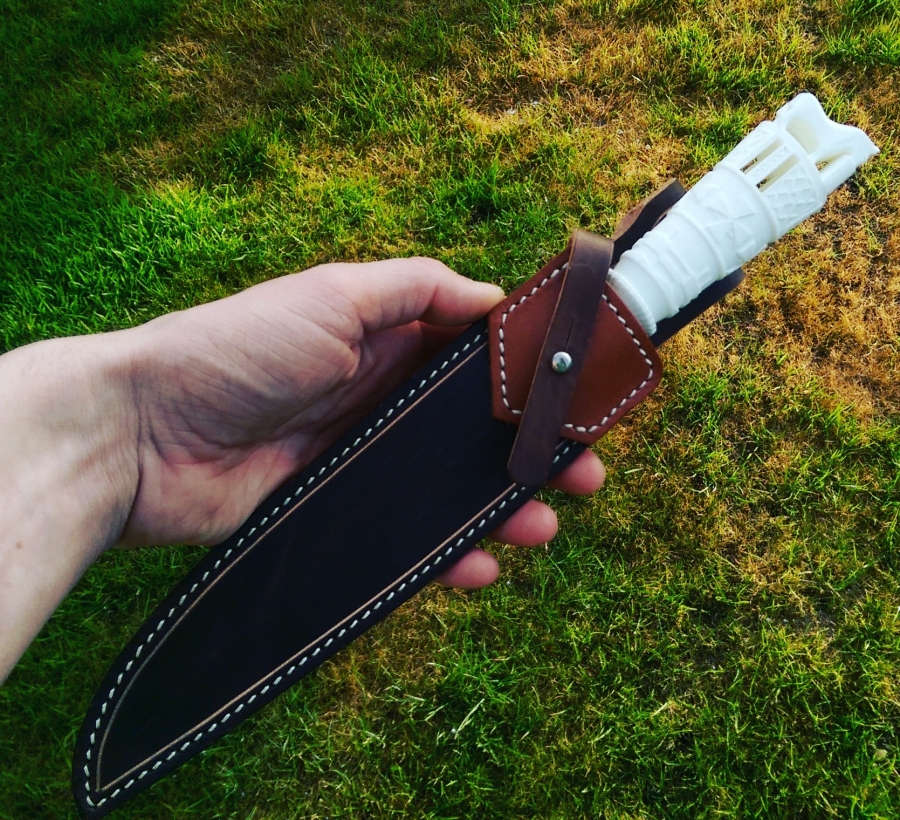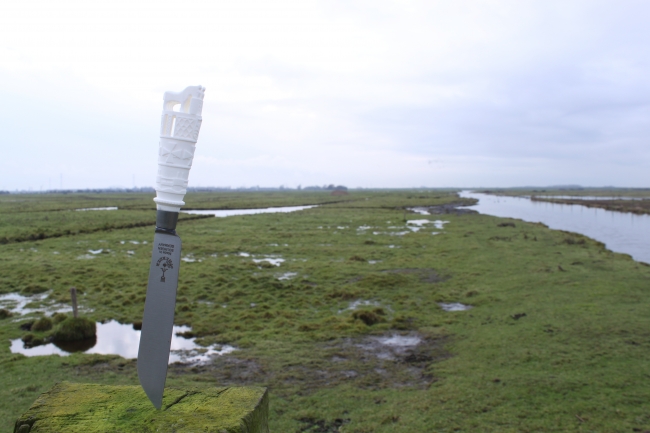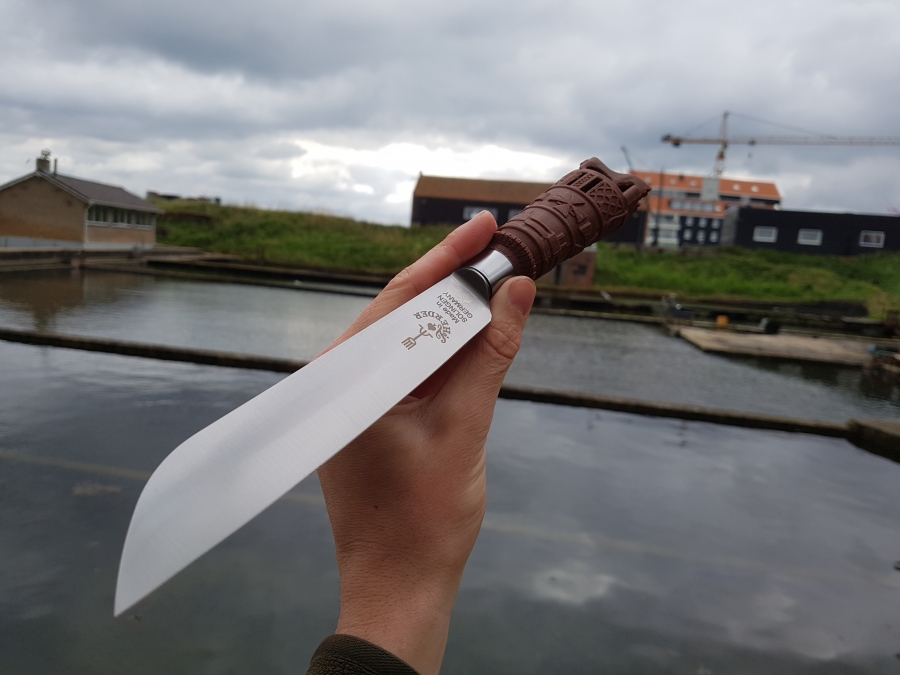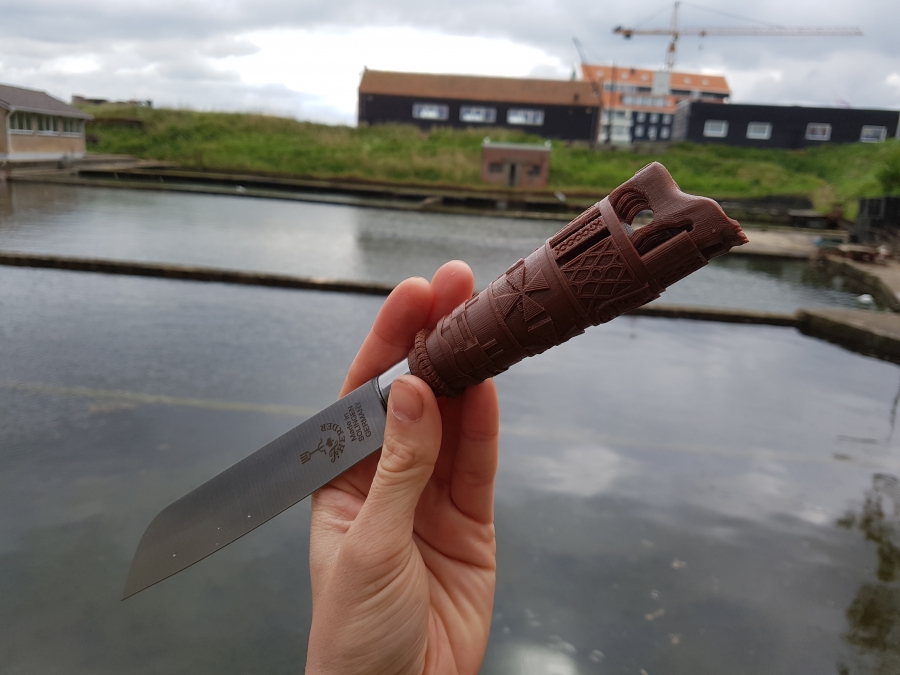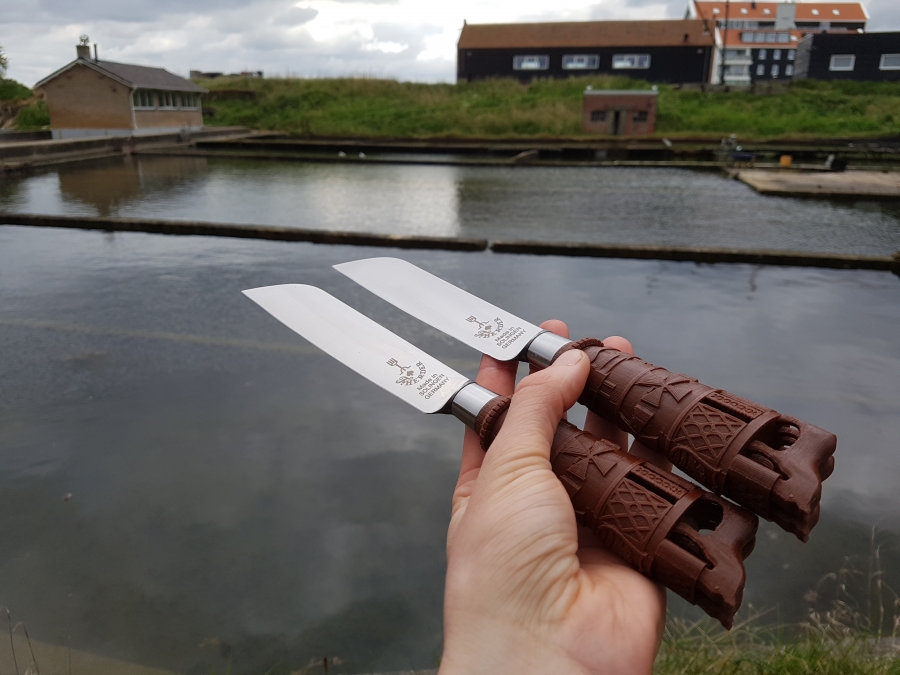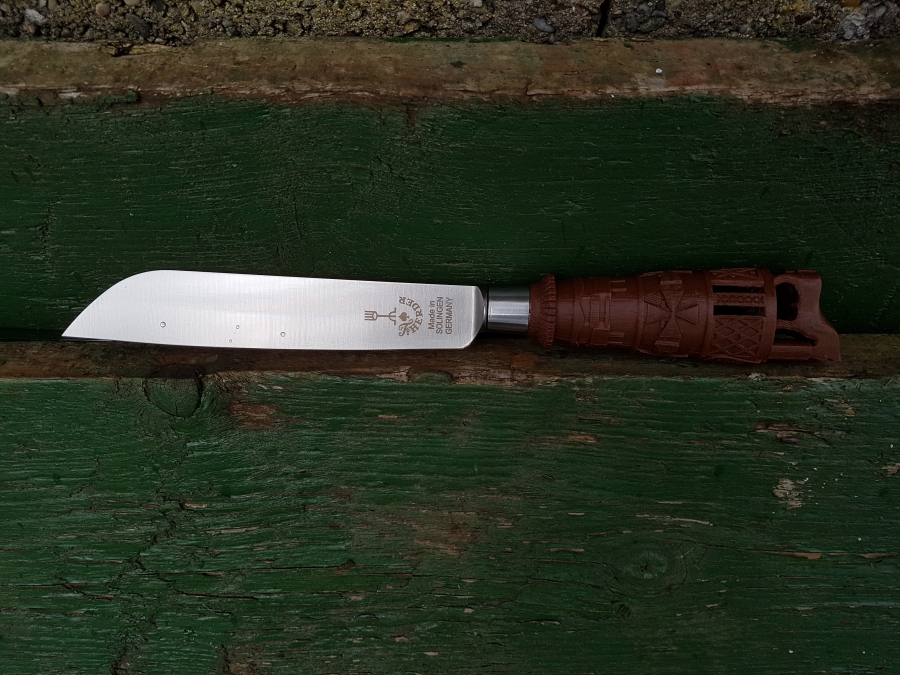 The Dutch province I live in, Zeeland, is most famous for its battle against the water. The sea gives and the sea takes. Many cities have disappeared because of floods and storms. The engravings on the handle symbolise the Dutch battle against water. The knife model is a traditional local farmers knife.
This ''Horse knife'' was a highly decorated knife with a handle from carved wood. Farmers used it for working on the land, but also for going to church on Sundays. Therefore engravings depict scenes from the bible as well as scenes from agricultural life. It was the 19th century EDC. Later these knives became obsolete, and the skill of carving them by hand has become almost lost. Only a few people still master the craft and these historical knives are commercially not available.
This is where my design comes in: It's a modern take on this traditional horse knife. The engravings depict windmills and our modern water barriers. The handle is 3Dprinted and glued on Solingen carbon steel blade. It is very sharp, but not corrosion resistant and therefore not recommended for kitchen use.
The horse knife costs €65-
The knife comes with a display standard or a leather sheath(costs 45 euro more + longer delivery time).
Available colors are white and brown. The delivery time is within 10 days. Orders can be placed by filling in the contact form below. I will contact you back via e-mail and send you the invoice. The available payment options are bank transfer or PayPal. The making of the knife starts after the contact form is send.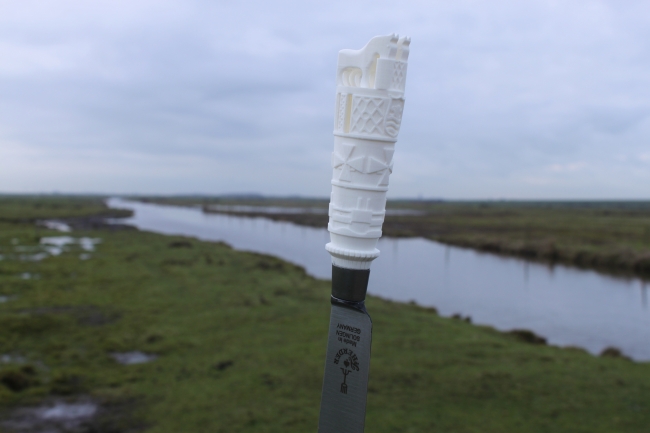 Order a Paeremes / Horse knife